Everest Base Camp is a trekker's paradise. Located in the snow-capped Himalayas, thousand of trekking enthusiasts every year visit this place.
EBC is one of the most sought-out trekking destination in the world. It has mesmerizing view of the mountains, wonderful trekking facilities, and warm, hospitable people.
The biggest charm of the EBC trek is that you can be up close and get a magnificent view of the tallest mountain in the world i.e. the Everest. Also, other tall peaks such as Mt. Lhotse, Cho Oyu Makalu are located in this region.
As EBC is located at a high altitude, trekking there takes about two weeks. You have to take care of your health while trekking. In addition, you also have to prepare well to ensure that you can complete the trek.
There are many things to consider before you trek to Everest Base Camp. This article will serve as your ultimate guide for trekking to Everest Base Camp.
Highlights of the Everest Base Camp trek
Trek to the Base Camp of Mt. Everest, the tallest mountain in the world.
Explore the Sherpa culture of the Everest region by visiting various monasteries and villages of this region.
Visit Sagarmatha National Park, a site listed in the UNESCO Natural Heritage Sites.
Enjoy the mesmeric view of Khumbu glacier.
Go through the wonderful rhododendron and pine forests of the Everest region.
1. Weather of Everest Base Camp
Everest Base Camp lies in the mountainous part of Nepal. The altitude that you gain while you trek in the Everest Base Camp is quite significant.
To start your trek, you will take a flight from Kathmandu to Lukla and finally get to Everest Base Camp.The altitude of Kathmandu is 1400 meters while that of Everest Base Camp is 5380 meters.
Thus, in total you will gain an altitude of 4000 meters. Thus there will be variation in the weather of various places along the trek.
As you ascend higher, the weather turns unpredictable in this trek. So, it is better to start preparing.
Everest has four seasons- summer, spring, autumn and winter.
Summer
Summer in EBC falls in the month of June, July, and August. During this season, the minimum temperature along the highest points of the trek is around 0 degrees. This is a pleasant temperature considering the fact that you will be at the Base Camp of the tallest peak in the world.
However, due to the fact that monsoon season coincides with summer in Nepal, EBC trek in summer season is not as popular as trekking there in autumn or spring. But, if you plan your trip taking monsoon into account and have the appropriate gear, summer trek in EBC could be a pleasant experience.
Winter
December, January, and February are the months when there is winter in EBC. During the winter season, minimum amount of rainfall takes place in the Everest region. The most stunning pictures of the mountains are captured in this season. But due to heavy snowfall some trekking routes are closed in this season.
In addition, some places along the trek have temperature of -20 degrees in the winter. Therefore, winter treks in the Everest region is also less popular. But for people who like to trek in solitude, this is a great option.
Autumn
In Everest Base Camp, autumn falls in the months of September, October and November. With moderate temperature and relatively low chances of rainfall, autumn trek to EBC is extremely popular. During this time, the temperature is mild. This means you have pleasant trekking temperatures during the daytime. In the nighttime, the temperatures are not extremely low.
Spring
Just after the completion of winter in EBC arrives the spring season. This season falls in the month of March, April and May. The vegetation in the Sagarmatha National Park becomes lush during this season and the views of rhododendron and pine forests in the Everest region is awesome.
The mountains, glaciers and quaint villages in this region bring out their best color during this season. Photography becomes awesome in EBC during the spring.
2. Altitude of EBC trek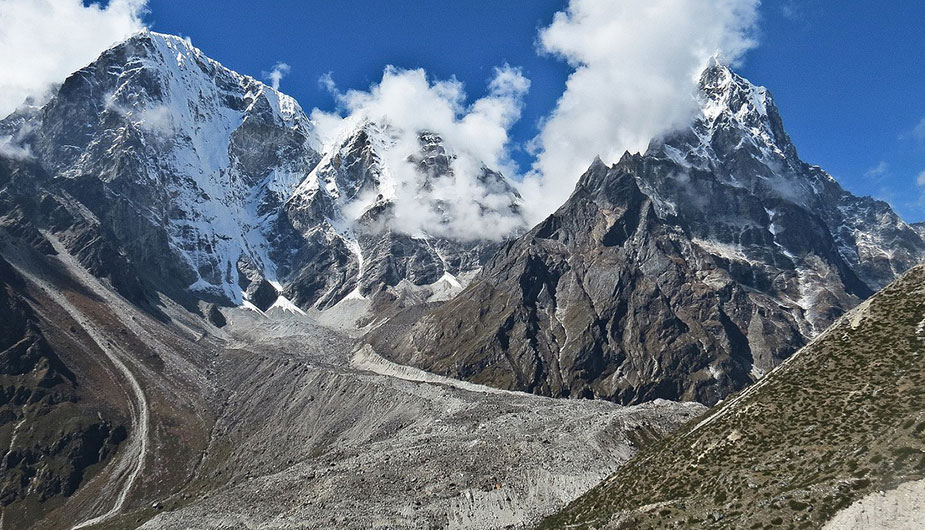 You will go to various places during your trek to EBC. The classic Everest Base Camp trek starts in Lukla. Lukla has an altitude of 2800 meters. From Lukla, you will have various stops where you will stay overnight and eventually complete the classic EBC trek in around 2 weeks' time.
Mostly, the altitude of the places you go to in the EBC trek is more than 3000 meters, you have to spend your time acclimatizing as well. Also, there are various trekking options in the Everest region. So, trekking there might take take more or less than 2 weeks depending upon the trekking packages you want.
So, with different trekking packages comes different places along the trek and different altitudes as well.
Namche Bazaar is the town of Sherpa people and is a place that is renowned for trade. Khumjung Monastery and Tengboche Monastery are two places in the Everest region that reflect Tibetan Buddhism prevalent in this region.
Gokyo is a wonderful valley in the Everest region which people visit during Gokyo Valley trek.
There are some mountain passes that you can cross when you come for trekking in the Everest region.
| | |
| --- | --- |
| Places | Altitude |
| Lukla | 2800 m |
| Namche Bazaar | 3438 m |
| Khumjung | 379 m |
| Tengboche | 3860 m |
| Gorak Shep | 5164 m |
| Everest Base Camp | 5364 m |
| Kala Pathar | 5545 m |
| Gokyo | 4750 m |
| Island Peak | 6189 m |
3. Difficulty of EBC trek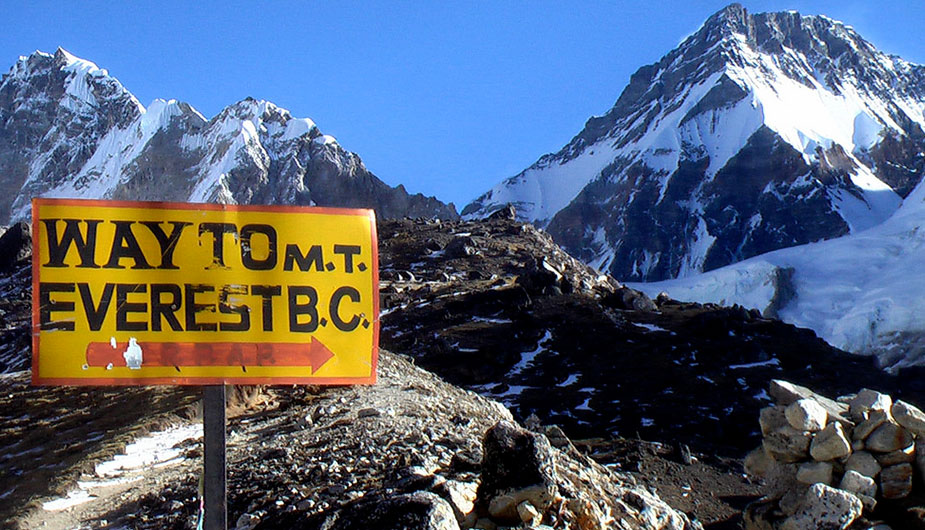 The other pressing question that every trekker asks about Everest Base Camp is whether the trek is doable. The difficulty of the EBC trek is determined by various factors such as altitude, the number of trekking hours as well as the season that you decide to do your trek.
Longer trekking routes in Nepal can take up to a month to complete while shorter trekking routes can be completed in a week. Trekking for a month in the mountains is quite strenuous. However, Everest Base Camp trek is two week long. This makes it moderately difficult in terms of the number of trekking days.
While doing the EBC trek, you have to trek for around 5-6 hours a day. You have your breakfast in a teahouse/ lodge in the morning and set out for trekking and trek for around 3 hours before having your lunch. After lunch and a bit of rest, you head out and trek for around 3 hours before reaching the place where you stay overnight.
Thus, the EBC trek is also moderate in terms of the number of trekking hours per day.
Altitude is another big factor that is detrimental to the difficulty of the trek. There are various ways in which you can prepare for altitude sickness. You need to go slowly in your treks and spend time for acclimatization as well.
Therefore, taking all these factors into consideration, EBC trek has a moderate level of difficulty.
4. Cost of trekking to EBC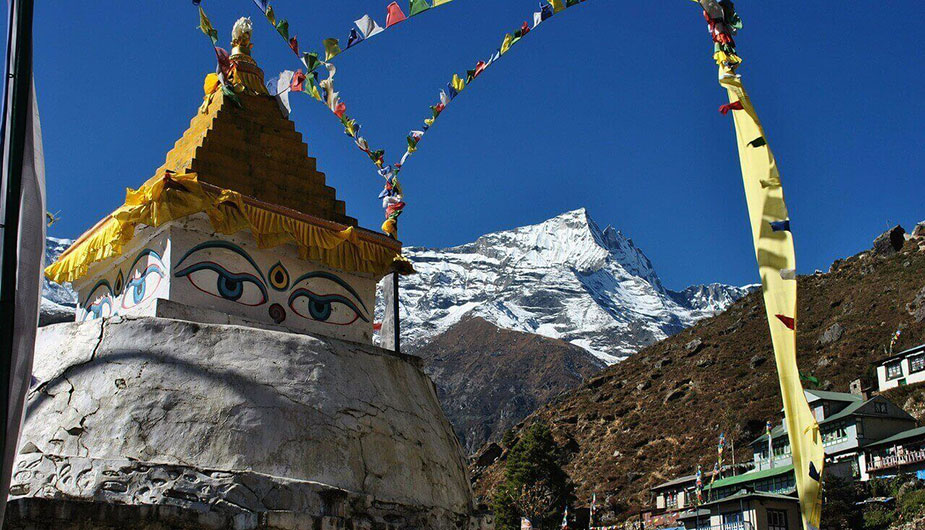 There are various kinds of expenses that you have to bear while trekking at Everest Base Camp. The cost of EBC trek includes the price of flights, accommodation, food, gear, travel permits, insurance, cost of hiring a guide and other miscellaneous costs.
The flight to Lukla from Kathmandu costs about 177$. If you choose the Jiri to Everest Base Camp, you won't have to take a flight and this will reduce the cost of the flight. The price of flight from Lukla to Kathmandu is also identical.
You have a great range of places for accommodation. There are tea houses along the trekking trails which are quite cheap. Right next to tea houses, you can also find luxurious hotels. So, the price of accommodation in the EBC trek depends on the comfort and facilities you are looking for during your treks. For example, if you book the Everest Base Camp luxury trekking package, then your cost is going to be higher.
In addition, you should expect to pay higher charges for accommodation as you go to higher altitudes.
Also, you have to get several permits while trekking in the Everest region. EBC trek lies in the Sagarmatha National Park. The permit to Sagarmatha National Park costs 33$. Besides, you also have to acquire a TIMS card, the price of which varies according to your nationality. If you are planning to trek from Jiri, you will have to acquire a permit for Gaurishankar Conservation Area.
Guides and porters are also necessary for you in order to have a comfortable trip. Their prices vary from 20 – 40 US$. There may be miscellaneous expenses while charging you electronic gadgets, tipping porters/ guides/ waiters, and donating some amount to the locals.
5. Travel Insurance for EBC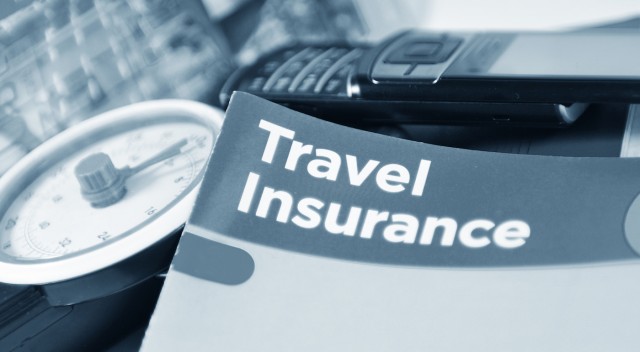 Irrespective of where you are traveling, getting a travel insurance makes you feel secure about the things that can go wrong during your trip. As there are some problems you can face while trekking such as altitude sickness, accidents, illness etc., a travel insurance will come in handy.
In the worst case, you may be down with altitude sickness while trekking. Without a travel insurance, charting a helicopter for rescue can take upto 5000 US$. There might also be bruises and cuts during your treks which may require you to charter a flight.
In addition, some travelers lose their bags and other personal belongings due to forgetfulness or petty theft.
If you get a travel insurance for the EBC trek, you will be able to overcome such problems. There are many travel companies that provide a travel insurance for EBC. Make sure you check the list of items covered in the travel insurance you choose.
6. Altitude Sickness in EBC
While trekking in altitudes greater than 3000 meters, the oxygen level in the air goes down.. Due to lower levels of oxygen, the bodily functions may not function as it would normally do. This results in altitude sickness in some trekkers.
There are various types of altitude sickness viz. Acute Motion Sickness, High Altitude Pulmonary Edema (HAPE) and High Altitude Cerebral Edema (HACE). These many forms of altitude sicknesses have their own symptoms and preventive measures.
Acute motion sickness is quite mild in nature whereas HAPE and HACE are extreme forms of altitude sickness. HAPE and HACE are conditions where fluid is built up in your lungs and brain respectively. If left untreated, these conditions can be fatal.
In order to reduce the chances of altitude sickness during EBC trek, you need to prepare physically as well as mentally. While you are trekking, you need to go slow and make sure that your body is receiving enough nutrients in the form of food and water.
Taking medication, paying close attention to sanitation, and descending when you feel the symptoms of altitude sickness are some other preventive measures you can use to keep altitude sickness away.
7. Hiring a guide to EBC
If you have trekked to EBC many times before, you may be tempted to go to EBC without a guide. With enough trekking experience, you can do that. But, if you do not have prior trekking experience, hiring a guide is much helpful.
Guides help you in various ways during your trip. The biggest help they offer besides guiding you in trekking trails is by helping you understand the local community. Knowing the local community and learning the culture and lifestyle is an integral part of your trek.
In addition to guides, you can also hire a porter. A porter will carry your belongings giving your body relief during the trek. This will enhance your trekking performance and help you complete the trek on time..
In addition, you can also hire a porter cum guide who guides as well as carries your belongings during the trek..
Guides and porters help you in getting awesome views of the mountains of the Everest region as they have a lot of idea about the best places for mountain viewing. Plus, they can guide you through the best local cuisine of the region.
Hiring a guide to EBC also helps to boost the economy of the region. Guides and porters also help you have good conversations along the way and provide you physical as well as mental support that you need while trekking to EBC.
There are excellent travel agencies in Nepal which provide you the facilities of licensed guides and porters.
8. Finding a travel agency for EBC trek
Finding a travel agency is another important factor to consider while trekking to EBC. As there are many travel agencies in Nepal, it is extremely important to review the various factors that makes a travel agency good.
Travel agencies are necessary as they help you arrange accommodation and guides fork safe and easy trek. In peak trekking seasons, accommodation is difficult to find and you may end up sharing rooms or not finding rooms with good insulation.
Travel agencies also provide you licensed guides. Good trekking companies have a good track record of providing emergency services during your trek. In addition, they will also provide you good advice and customize your trips according to your convenience.
While you are looking for a travel agency for trekking in Nepal, the first thing you need to do is to check whether the agency is registered. Experience is another important factor to consider while choosing a trekking agency for EBC trek.
But, before you consult a trekking agency, you might want to know what you want. If you make a rough estimate of the number of days you are planning to trek, your budget as well as the places you want to visit, it makes it all the more easier to approach any trekking company with clarity.
If you read the reviews of Nepal's trekking companies in online platforms such as TripAdvisor and Lonely Planet, you will have some idea about if the services provided by the trekking agencies have a good standard.
You can also interview the guides offered by the trekking agencies and know if you will be comfortable with the guides. lso, look at the track record of all the trekking agencies to see if they have a good history of emergency services they have provided.
9. Everest Base Camp training program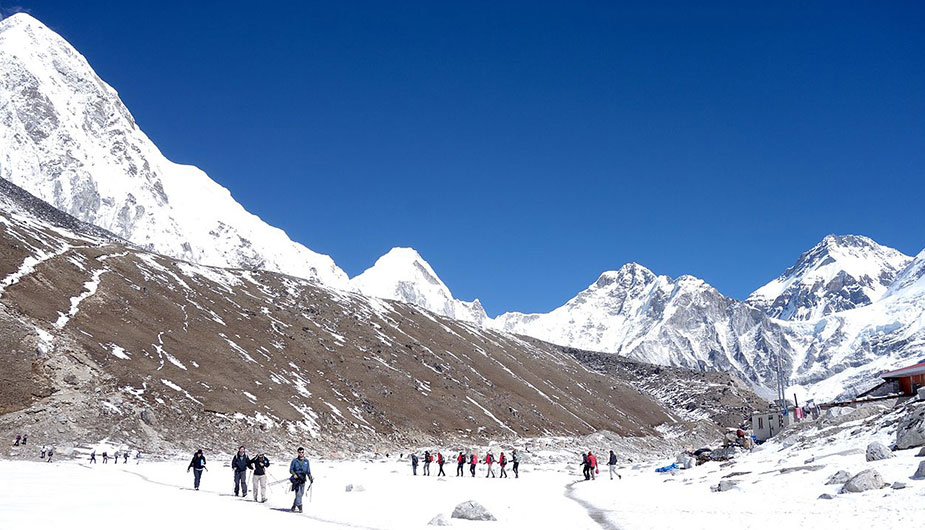 If you are looking for completing Everest Base Camp trek, you should consider proper training for this trek. As you have to trek for about two weeks and prepare for the altitude as well, you need to undergo a rigorous training regime.
If you are a beginner who has little or no trekking experience, you should do a few hikes or treks before you take on the EBC trek. You can come to Nepal a few days early and do a few short treks to get your body adjusted to walking for longer hours..
In addition to that, you also need to do a cardio training to build endurance. You can either opt for some running, cycling, or swimming. All of these exercises help you strengthen your limbs as well as forearms which will immensely help you in your treks.
Diet is of paramount importance in order to build endurance and strength in your body. You need to make sure that the food you eat is rich, not simply in terms of protein but other minerals and vitamins as well.
You can also use elevation masks to prepare for your treks as elevation masks are known to build endurance in the body. Although, preparing with elevation masks is no guarantee that altitude sickness will not catch you, it will help simulate the environment that you are likely to encounter during your treks.
During your trek to EBC, you should not rush. You should continue your treks slow and you need to acclimatize properly as the altitude increases.. If at any point during your trek you don't feel well, you need to take rest and assess your bodily conditions.
At times, you may feel symptoms of altitude sickness. In that case, you need to descend to a lower altitude and take all the necessary precautions.
10. Everest Base Camp trek route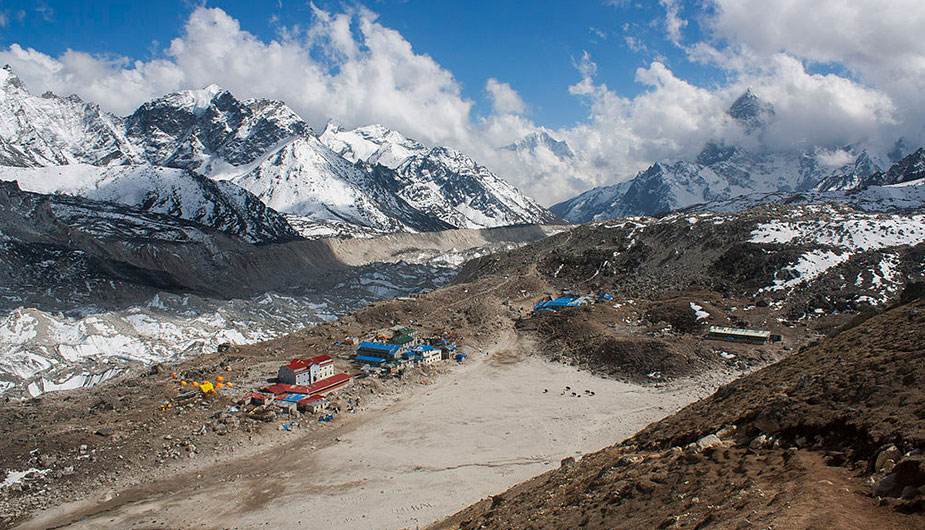 Everest Base Camp trek can be completed in various ways. It all depends upon the places that you want to see along the way. This is the classic route to Everest Base Camp:

| Days | Itinerary | Max. Altitude | Distance Covered | Trekking Hours |
| --- | --- | --- | --- | --- |
| 1 | Arrival in Kathmandu | 1400 m | – | – |
| 2 | Kathmandu sightseeing | 1400 m | – | – |
| 3 | Kathmandu – Lukla – Phakding | 2800 m | 8 km | 3-4 hrs |
| 4 | Phakding – Namche Bazaar | 3438 m | 11 km | 5-6 hrs |
| 5 | Namche Bazaar acclimatization | 3438 m | – | – |
| 6 | Namche Bazaar – Tengboche | 3870 m | 10 km | 5-6 hrs |
| 7 | Tengboche – Dingboche | 4360 m | 9 km | 5-6 hrs |
| 8 | Dingboche -acclimatization | 4360 m | – | – |
| 9 | Dingboche – Dughla | 4600 m | 4 km | 3-4 hrs |
| 10 | Dughla – Lobuche | 4940 m | 4 km | 2-4 hrs |
| 11 | Lobuche – Gorak Shep- EBC – Gorak Shep | 5364 m | 13 km | 6-7 hrs |
| 12 | Gorak Shep – Kala Pathar – Pheriche | 5545 m | 16 km | 7-8 hrs |
| 13 | Pheriche – Namche Bazaar | 3440 m | 20 km | 6-7 hrs |
| 14 | Namche Bazaar – Lukla | 2860 m | 19 km | 6-7 hrs |
| 15 | Lukla – Kathmandu | 2860 m | – | – |
| 16 | Departure from Kathmandu | 1400 m | – | – |
The number of days that you spend in the places mentioned above can be extended if you want to. You can contact the travel agency whose services you are going to receive to know how they can customize the trip for you.
11. Other trekking options in the Everest region
Everest Base Camp Panorama trek
If you are a beginner looking for some trekking experience in the Everest region, Panorama trek in the Everest region will be perfect for you. It is a light trek in the lower altitudes of the Everest region.
In this trek, you will visit places such as Namche Bazaar, Tengboche and Phakding. All of these places have an altitude lower than 3500 meters.
Everest High Passes and Island Peak
This is a trek from where you not only go to Everest Base Camp and Kala Pathar but also cross mountain passes such as Cho La Pass and Kongma La Pass. You will also climb Island Peak which is 6187 meters tall. This will be a long trip which will last about 25 days.
Gokyo Valley Trek
Another wonderful trekking option in the Everest region is Gokyo Valley trek. Gokyo is one of the most awesome valleys in Nepal with breathtaking mountains, Buddhist monasteries, glaciers and lakes.
Even trekking in Gokyo region has several alternatives such as Gokyo valley and Renjo La Pass trek and Gokyo to Everest Base Camp trek. All of these treks can be completed in different number of days as the routes can be customized by consulting a travel agency.
Jiri To EBC trek
Jiri to Everest Base Camp trek is one of the longest treks in the Everest region. During this trek, you will trek from Jiri, a place with an altitude of 1900 meters. Trekking from this place will help you acclimatize while trekking to the higher regions of Everest.
12. Death in Everest Base Camp
With so many movies depicting Everest Base Camp and expeditions in Mt. Everest, you might be wondering if there have been many instances of death of trekkers during Everest Base Camp trek. Well, the answer is YES.
But the fact that there have been deaths in the Everest Base Camp should not deter you from trekking to the Everest Base Camp. You have to look more closely at what lead to the deaths of people wanting to trek to EBC.
Most deaths that are shown in the Everest region in the movies are the ones which take place in mountaineering expeditions. And mind you, mountaineering expeditions are tough. You need a rigorous amount of training and sophisticated mountaineering equipment to complete the Everest expedition.
However, trekking to Everest Base Camp is rarely dangerous. The trekking trails to Everest Base Camp are relatively safe and thousands of trekkers trek there with appropriate training and guides.
A recent casualty while trekking in the Everest region was a travel enthusiast from Melbourne, Australia. Before that, in October 2014 and early 2014, there were casualties in the Everest region.
All of these casualties were reported to have problems coping with altitude sickness. You should prepare extremely well for the altitude sickness while going to the higher altitudes of the Everest region. .
If you have friends during your trip, they might provide you with necessary physical and mental support during your trips. If you are traveling alone, it becomes important for you to hire a guide or a porter, who can provide you such support.
13. Alternatives to trekking to EBC
You might be desperate to visit the Everest region but not be up for trekking in the region. You might wonder if there is any way you can go to the Everest region without taking the trouble of trekking. Well, there is a way.
Everest Base Camp is easily accessible in a helicopter. Everest Base Camp Helicopter tour allows you to go to Everest Base Camp and Kala Pathar in a helicopter. You take a helicopter from Kathmandu and travel to the Base Camp.
First, you'll go to Lukla from Kathmandu early morning and stay in Syangboche for a delightful breakfast in Hotel Everest View. Everest View is a sophisticated hotel in the Himalayas of the Everest region from where you can enjoy the peaks in Everest region such as Mt. Lhotse, Mt. Makalu and Everest.
After the breakfast, you will go to Everest Base Camp and Kala Pathar. From Kala Pathar, you can enjoy a very close view of Everest. After you spend about an hour and a half, you will get back to Kathmandu.
In a helicopter tour, you will get to the Everest region and come back the same day in the safety and comfort of a helicopter. Another wonderful feature of the helicopter tour is that it is accessible all year round.
You also have options of joining a group in a helicopter tour while going to Everest Base Camp or choose a private tour.
14. Everest Base Camp Packing List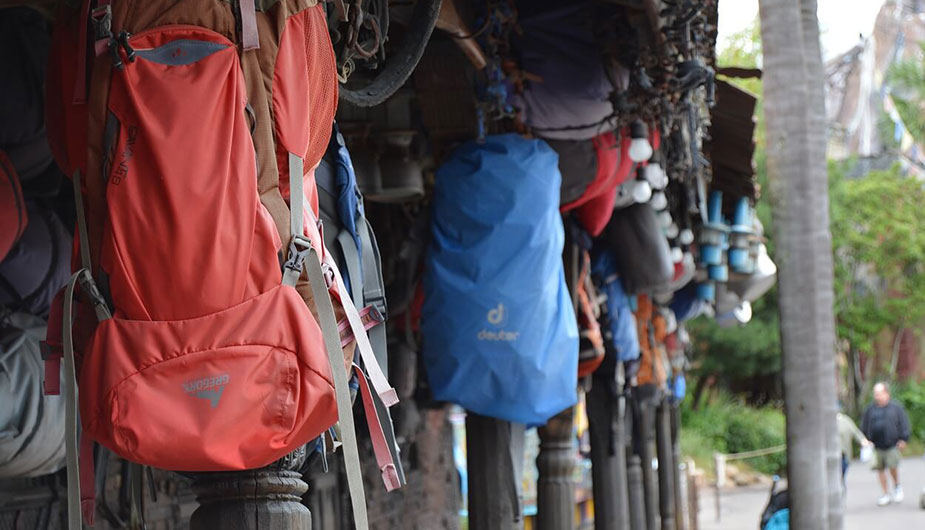 Your packing list for EBC trek is of utmost importance. You need to consider the season in which you are planning to do the trek and choose your gear as well as clothing accordingly.
When you are in the lower altitude, the temperature might be lower than that of the regions in higher altitude. Therefore, multi-layered clothing will be the way to go.You need to put on base layer, insulation layer and the outermost layer of clothing.
Since you cannot completely ignore the possibilities of rain, you should make sure that your down jacket and trousers are waterproof.
You will need a voluminous backpack which can accommodate a lot of belongings from clothes, digital accessories to sleeping bags. Make sure that you get a rain cover for your backpack as well.
You will also need sturdy trekking boots. Sunscreen will help you ward off the UV radiation that can harm your skin. You will also need sunglasses to protect your eyes from such radiation.
In addition, you will need woollen hats, gloves and socks to keep cold away. You may also want to consider buying a trekking pole to help you have a form grip on the ground that you tread while trekking. Basic toiletries and first aid will come in handy during emergencies.
Frequently Asked Questions
What type of accommodation is available in the Everest region?
There are luxurious hotels like Hotel Everest View in the Everest region along with tea houses, which are basic. As you trek to higher altitudes, facilities such as WiFi, room heating become scarce. Make sure you check the trekking agency you are traveling with to know what kind of accommodation is arranged for you.
What kind of food is served while trekking to EBC?
The type of food served is also dependent on the hotels that you dine in. Luxurious hotels such as Everest View have a great range of food from Continental to American. But if you go to normal lodges, you will most often be served traditional Nepali food in the form of Dal Bhat for lunch and dinner.
Is there a great range of beverage available during the EBC trek?
Nepal is quite famous for the wonderful variety of tea and coffee it serves. So, you will find a range of tea while trekking to EBC. The same goes for coffee.
However, you should avoid consumption of alcohol while trekking. Consumption of alcohol leads to dehydration, which increases the chances of altitude sickness.
What kind of snacks do I need to carry for the EBC trek?
Chocolate is always the most handy snack that you can carry. Chocolates have high carbohydrate and energy. Constantly munching it while trekking will help you maintain your energy level.
Is drinking water at EBC pure?
One of the biggest problems that you may face during EBC trek is finding clean drinkable water. Drinking impure water may lead to diarrhoea, which will lead to dehydration. So, you can carry a water purifier or water purifying tablets to ensure that the water you drink is safe.
What kind of toilet facilities are there in the EBC region?
Most of the toilets that you find in the Everest region are squat toilets. In squat toilets, is no automatic flushing here and you have to use a bucket of water in order to flush. But lodges that are recently built have automatic flush toilets as well.
Is cell phone reception available in the EBC trek?
Cell phone reception and its quality varies from one location to another but is available in several parts in the EBC trail. There is mobile phone facility at Everest Base Camp as well. In addition, several villages and lodges have landline facility too.
Is there any limit on age for the EBC trek?
There are no restraints on the age while doing the EBC trek. But, highlighted before, you need to undergo basic training before setting off for the EBC trek. You might also want to consider consulting a doctor for a precautionary checkup about the state of your health. The doctor will also prescribe you some medicine for altitude sickness, if necessary.
What is the limit of the weight of my baggage to Everest Base Camp?
If you are taking a flight to Lukla, there is a certain limit to the weight of your baggage. The maximum weight of the check-in baggage is 10 kg whereas that of the hand carry is 5 kg.
Are ATMs available in Everest Base Camp?
No. ATMs are not available in Everest Base Camp. There are some ATMs in Namche Bazaar or Lukla but not in places higher than that. And in worst scenarios, ATMs might run out of cash or the machines may not work properly. So, carrying some hand cash is always a good option.
Is there a rule for tipping/ donations while trekking in EBC?
Tipping is not compulsory. If you want to tip someone or make some donations, you are free to do so but, there is no hard and fast rule about how much you should tip.
Conclusion
Everest Base Camp trek is a trek of a lifetime. Trekking there will give you memories that will last forever. But, there are many things to consider before you can start your trek there. You need to carefully assess all things mentioned above while planning for your trek. If you are well prepared, it will be the most amazing trekking experience of your life.