Yearly, about 40,000 people fly to Lukla in order to trek to Everest Base Camp (EBC). It is one of the most popular treks in Nepal.
Everest is the highest mountain in the world. It is not everyone's cup of tea to assent it. However, trekking to its base camp is possible and the task is becoming increasingly easier with increase in its popularity and, therefore, facilities.
It is most definitely not a walk in the park, but if you possess a sense of adventure, will and a normally healthy body, you too can be a part of this legend. You too can enjoy the beautiful landscapes, nature and interesting culture of the Everest region.
Here is a guide to how you could go about making this dream a reality and, if you would want to.
Trip Highlights
Most scenic flight from Kathmandu to Lukla
Spectacular up-close views of Mount Everest and other high peaks
Sherpa culture– Sherpa museums, monasteries and other structures
Tengboche Monastery
Trip to Kalapathar
Base Camp of the highest mountain, Everest
Planning trip to Nepal and need help?
Effects of Earthquake on Everest Base Camp Trail
Everest region was only moderately affected by the devastating Earthquake that hit Nepal on 25th April and 12th May.
Some minor landslides had crossed the trail to EBC but the villagers were quick in clearing it. After all, the trek route is firstly the means of transport for the inhabitants of the region.
Also, according to the team of experts sent by Tourism Agency Association of Nepal (TAAN) and engineers from Miyamoto international, all the suspension bridges to EBC are intact and safe to traverse.
It was mostly the teahouses that were affected. All three teahouses in Tengboche collapsed. Many of them in Phakding, Monjo, Jorsale and Pheriche were destroyed while Deboche, Dingboche and Gorakshep were unharmed. The remaining villages endured little damage.
Teahouse owners reported that they would be up and running by the September of 2015. September to November is the peak season for Everest Base Camp trek.
Indeed, EBC trek was opened and declared safe for trekking by September. The trek was possible without any added difficulty.
Though things have gone back to normal, there were very less trekkers this year. Locals hope that the numbers too will go back up to normal from 2016 onwards.
What is the best season to do Everest Base Camp trekking?
Spring and autumn are the best time to visit EBC. Trekking in these seasons mean clear sky and tolerable temperature.
Trekking to Everest Base Camp in Spring
Spring is one of the best seasons to trek to EBC. Clear sky and moderate temperature aside, spring offers an array of beautiful flowers. This includes Nepal's national flower rhododendron that will make your hike uphill very pleasant.
Spring is also climbers' season and one can see many colorful tents pitched on the base camp.
In Nepal, spring runs from March to May. However, late May may see some clouds. Mid-March is really the perfect time in terms of weather and April in terms of rhododendron and other flowers. These are also the busy times and will most probably be crowded.
Trekking to Everest Base Camp in Summer/ Monsoon
From June to August is monsoon, though the clouds stay around till mid September.
Monsoon is not a good time do EBC trek. First, views will be blocked most of the time due to rain clouds. Trails will be muddy. It can rain anytime and the next village could be still an hour away. And, snow fall or snow storm at higher elevations.
Another problem is the delays. Flights to and from Lukla can be delayed for as long as a week. Even buses and jeeps can be delayed. In fact, they can get stuck in the soft mud en route and it is a real hassle.
The only good news is that leeches aren't a problem in Everest. However, all things considered, it is better to travel to rain shadow areas like Mustang, Dolpo etc. during monsoon.
Trekking to Everest Base Camp in Autumn
Autumn is the best and most crowded season, especially October. Autumn lasts from September to November.
Clear sky and tolerable temperature are the features of trekking in autumn. It is better to avoid early September though as it can still be cloudy.
Also, by the end of November it starts to get cold. This does not mean that trekking is not possible, just some extra layers for warmth. People have comfortably travelled to Everest Base Camp well into December.
Trekking to Everest Base Camp in Winter
Winter is not a good time, though not as bad as monsoon.
The air is drier and clearer in winter and trekking is absolutely possible but it is not as simple as in peak seasons.
It gets very cold at night so a proper down jacket, down trouser and a good quality sleeping bag is a must. Also, expect heavy snowfall at higher altitude.
Most of the lodges will be closed. But then, plenty enough will be open to accommodate the few trekkers who travel in winter. This is because Everest is a very popular destination.
The only other problem is lodging in Gorak Shep but this can be easily arranged. Check with the agency you will be hiring. It is suggested to hire a trekking agency when trekking in winter.
Permits required to trek to Everest Base Camp
To do EBC trek, two permits are required
TIMS Card: Anyone trekking to Nepal needs to get a TIMS card unless you are travelling to a restricted area. In that case, restricted area permit will suffice. (http://www.timsnepal.com/ )
TIMS card cost $10 if you are going through an agency and $20 if you are travelling independently.
Everest National Park Ticket: This is entrance ticket to Everest National Park and costs Nrs.3000 (around US $30).
What trekking gears or trekking equipment should I pack?
Knowing what trekking gears to pack is important. You would want to pack as light as possible while not missing the important equipments. So here is list to give you an idea.
A pair of trekking boots 
Break in the shoes if needs be before hitting the trail. Trekking boots are the best though not a must.
A pair of warm slippers
You can use slippers when in lodge. Warm slippers will keep you warm at higher altitude. It will be hot in lower area, especially in spring, but why carry two pair of slippers? You could carry crocs and just use woolen socks for warmth too.
Four pair of liner socks.
Bring best hiking socks to prevent blisters. At least four pairs. Two warm pairs and two thin pairs. Trekking/liner socks are better but normal ones are okay too.
Few pairs of underwear
Few pairs of underwear, 5-7, as you see fit. Normal ones are absolutely fine but do you know you can buy 'trekking underwear'? Not in Nepal though.
A down jacket and a down pant 
You could layer up but it gets really cold up there. Bringing the best ultralight down jacket and pant will be much easier and you can buy or rent them in Nepal for cheap. Renting costs a dollar or less per day.
T-shirts and trousers
3-4 t-shirts, mostly full sleeved for both warmth and protection from sun. 2 pair of trekking pants/trousers. Also, one to two set of clothes for your time in Kathmandu.
A set of thermals
A top, bottom and underwear.
A windproof jacket/ fleece jacket and bottoms
A light sleeping bag. You can rent or buy them in Nepal. You can also buy it outside of Nepal.
This too can be bought or rented in Nepal cheaply.
Trekking poles 
There are many ups and downs in this trek and trekking poles can assist you. It will help relieve pressure on your knees.
A pair of very warm Gloves
A woolen hat 
Sunglasses
Buy a pair in your home town if you don't already own one. Fakes in Kathmandu will not be protective.
A torchlight/ head torchlight 
A First aid kit 
Include Oral Rehydration Salts (ORS) or diarrhea tablets, blister plasters, Diamox, some pain killers and a vapor rub.
Toiletries
Toilet paper, hand sanitizer, water purifiers, sunscreen, moisturizer, lip balm, soap, shampoo sachets, toothpaste, toothbrush and a trekking towel.
A water bottle
Not a plastic one but a metal one that can be used to fill hot water as well.
A waterproof map of Everest Base Camp
Snacks you like and entertainment such as books, cards etc. 
Snacks cost cheaper in Kathmandu so stock up on them in Kathmandu. Price of a snicker bar can reach up to $4 higher up in Everest.
Everest Base Camp Trek Itinerary
All itineraries of Everest Base Camp trekking are pretty much the same. Only a little different in which village your stop will be and not really much choice there either.
Itinerary
Day1. Fly to Lukla and trek to Phakding
Day 2. Trek to Namche Bazzar
Day 3. Acclimatization day in Namche Bazzar
Day 4. Namche Bazzar to Tengboche
Day 5. Trek to Dingboche
Day 6. Acclimatization day in Dingboche
Day 7. Dingboche to Lobuche
Day 8. Lobuche to Gorakshep
Day 9. A trip to Kalapathar and then to Pheriche
Day 10. Pheriche to Tengboche
Day 11. Tengboche to Namche Bazaar
Day 12. Namche to Phakding
Day 13. Phakding to Lukla
Day 14. Fly back to Kathmandu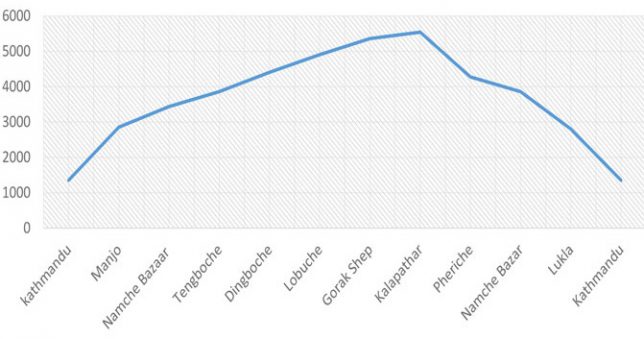 Namche Bazzar and Dingboche are the usual rest stops for acclimatization. However, if you feel unwell, do not hesitate to spend one more day in the same altitude. Altitude sickness or AMS shouldn't be taken lightly.
As such, when trekking to Everest Base Camp, add a day or two of contingency days. This can also prove useful in case the flight to and from Lukla is delayed.
AMS
When trekking to EBC, two days, one in Namche Bazzar and one in Dingboche, are taken for acclimatization. So, what is acclimatizing and why is it necessary? What is AMS?
Acclimatization is, in simple words, adjusting to one's changing environment. When trekking to EBC, we go as high as 5,364m. Higher the altitude, lower the air pressure and concentration of oxygen is. This is something we people, living in the lower elevation, are not adapted to. Therefore, acclimatizing is to give our body time to adjust to high altitude conditions.
When our body does not adjust to the altitude, we get altitude sickness or AMS (Acute Mountain Sickness). Doctors believe AMS is our body's reaction to the change in air pressure and level of oxygen. Symptoms include headache, nausea, loss of appetite, heavy breathing, vomiting etc. If this continues, AMS can turn into more dangerous forms HAPE and HACE.
Altitude sickness should not be underestimated. One should not try to bear on with AMS, take it lightly or think that it will just pass away in time. It will not. It will only worsen unless proper measures are taken.
What to do in case of AMS?
In the case you detect AMS, immediately stop climbing higher. Stay a day or two in the same altitude. Else, descend back to lower altitude. Some people can take up to 4 days to acclimatize but usually, one day will suffice.
Taking Diamox will help with the headache and other symptoms. It does not mean you can climb higher after taking this medicine. Whether Diamox only masks the symptoms of or cures AMS is not clear. Opinions are divided in this matter.
So, acclimatizing is the best choice. Take time.
What to do to prevent AMS?
In order to prevent AMS take time to acclimatize. Climb slowly and at certain intervals of height, spend at least one day at the same elevation. In itineraries, such days are written as rest day or acclimatization day.
Though called rest day, resting is far from what you will be doing. A few hours trek to a higher ground is taken on acclimatization day only to return back to the same place for the night. 'Trek high, sleep low' is another mantra to prevent AMS.
Other things to do are to keep your body hydrated and well nourished. Avoid caffeine and alcohol as they dehydrating. Also, foods rich in carbohydrate are known to help. Carb up!
Also Read: Expert Tips to Avoid AMS
How much does it cost to trek to Everest Base Camp?
Cost of Everest Base Camp trekking depends on you; on how lavishly or economically you would like to travel. This is a general per day per person expenditure list.
Permits
Around US $30 + $20 (or $10) for the two permits
Flight to and from Lukla
One way flight to or from Lukla costs about $160 -$180. For porter or guide travelling with you from Kathmandu, the price is around $90 or less. This $90 is paid by you.
Food, water and Accommodation
Everything gets more expensive as you climb higher. Even then, if you separate $25 per day for food, it will be enough to cover a range of options from the menu. This, however, will not be enough for alcohol but you can enjoy many cups of tea, coffee and flavored hot water.
If you are on a tight budget, then restrain yourself. Cut the number of hot drinks and choose the more filling but cheaper foods like Dal Bhat. Then, $15 will be plenty enough.
Bottled waters are costly. Prices can climb up to $5 per bottle. Normally it will take $2 which is still ten times more expensive than in Kathmandu. So, fill your bottles in lodges with boiled water and use purifiers. You will have to pay for hot water too but this will be cheaper.
Lodges start from Nrs.200 (around $2) for one night. En suits can cost up to $5.
Guides and Porters
Depending on their experience and expertise, guides to Everest region can take from $25 to $50 per day.
Porter guides start at $20 per day.
Porters start at $15 per day.
Agency Recommendation: Magical Nepal organises 14 days Everest Base Camp Trek at $1295 per person. They response their queries within 24 hours and have excellent reviews. Average response time is 7 hours.
Miscellaneous
Separate some $60 for other things like tickets to monasteries or buying Achievement Certificate after successfully reaching the base camp etc.
Luxury Trekking to Everest Base Camp
Luxury trekking also takes the same route to the Everest Base Camp. However, instead of the normal teahouses, you will be staying in the more expensive hotels. It is also called Luxury Lodge Trekking.
What is the difference? More comfortable bedding, room heaters, hot shower in attached bathrooms etc. are the facilities which, considering the place, is luxury indeed.
This is many times more expensive than the normal teahouse trekking. And, know that you will not be sleeping in these 3/5 stars hotels every day but only where available. That is a good 9-10 days of the trip. Because Everest is such a popular tourist destination, many hotels have opened their branch there.
Other few days will be spent in the 'best lodge' available.
Insurance for Everest Base Camp Trek
Insure yourself. It is very important.
Everest is a difficult terrain. There are no vehicle services. There is a health post operated by Himalayan Rescue Association in Pheriche and Khunde Hospital in Khunde. However, it is not possible to take you to one of these in case of illness, AMS or injury if you are in a village hours ahead or behind these places
The only option, then, is helicopter rescue. Helicopter rescue can cost up to $5000. You need to pay this money upfront or prove you can to get them to come pick you up. Therefore, it is very important to insure yourself.
While taking out insurance, make sure it covers trekking and climbing even though you won't be doing any climbing.
Also, because the highest point reached during EBC trek is 5,600m+ (Kalapathar), make sure that it specifies paying for emergency ambulance/helicopter rescue for as high as 6000m.
Get insurance. You might need it and you might not but it is good to be prepared.
Some FAQs about Everest Base Camp Trek
Some frequently asked questions answered for further details about Everest Base Camp trekking.
1. How fit do I need to be?
Everest Base Camp is a moderately difficult trek. Any reasonably fit person can do this. Even amateurs, people with no previous experience, have completed the trek. EBC trek is not easy but it is not impossible for most people.
2. What is the food like in Everest Base Camp trek?
Food options are plenty and delicious. You can try different national and local dishes like dal bhat, momo, porridge, tsampa, roti, vegetable curries, meat items, packed noodles, chow mein etc. You can find western food items like sandwiches, pizza, pie, bread and butter/jam/honey, pasta and more. Eggs and potatoes prepared in different ways are in the menus as well.
In drinks, there is hot chocolate, hot lemon, hot flavored drinks, tea, coffee etc. They sell local and imported alcohols too but alcohol is not good for AMS. You could enjoy it after Everest Base Camp, on your return trip.
3. How is the accommodation in Everest?
There are many good teahouses/lodges in Everest. They offer small but neat little rooms. Normal rooms have two beds. They have dorm rooms too, with 4-5 beds. This will be cheaper if you are travelling in group.
Toilets and bathrooms are usually separate, common and outside. En suite rooms are available in some places but they cost a little more.
There are starred hotels as well. They are expensive. They offer more comfortable beds, en suite facility, hot shower and heater though.
4. What about hot shower facility in normal lodges in Everest?
Yes. Though the rooms are not heated, hot shower facility is available in most teahouse lodges. You will have to pay for them and the prices start from $2.
5. Can I charge my battery on the way to Everest Base Camp?
Yes. You can charge battery in most teahouses but for an amount (starting at $1 per hour)
6. Are there ATMs in Everest region?
Yes. There are banks and ATMs in Lukla and Namche Bazzar.
7. Is there internet in Everest region? Can I use mobile phones?
Yes, there are internet cafes from where you can access internet. You can use 3g and 4g in your mobile phones as well.
Yes. You can use mobile phones to call each other as mobile communication is well developed in Everest.
8. How much should I tip guides and porters?
There is no set standard for tipping as tipping is not really a Nepali culture. However, trekkers have taken a liking to 15% of the total pay. Like, if $10 per day is the porters pay for 10 days, then 15% of the total $100, that is $15, is the tip amount.
Some Tips
Lastly, here are some tips that can prove useful when trekking to EBC.
Add contingency days. Lukla flight is famous for being canceled due to bad weather. You might also need an extra day to acclimatize. So, have an extra day or two.
Food preparation takes time. Be patient.
Bring enough cash. ATMs in Everest are unreliable. Do not depend on them. Have enough cash ready.
Avoid being intimate in public no matter where in Nepal you are. Both kissing and hugging are out of bounds.
You have to pay for hot water anyway so it is better to just order tea? Yes. But you could still bring your tea bag, buy hot water and make your own tea.
Buy chocolate bars and snacks in Kathmandu. Same things cost 9-10 times more in Everest.
For the best view of the Himalayas, sit on the left side when on your way to Lukla.
If you hire your guide and porters in Lukla, you wouldn't have to pay for their flight.
When lines of donkeys, yaks or other animals of burden come, let them pass first. And, stick to the wall side and not the edge side as animals may push you over.
Conclusions
We hope that this guide was able to answer all your queries. If there are some other questions, please feel free to contact us. Leave a comment or email us. We are happy to help.
Planning trip to Nepal and need help?
Summary
Reviewer
Review Date
Reviewed Item
Author Rating