Annapurna Base Camp (ABC) Trek is one of the most popular treks in Nepal. It is relatively easy and shorter while still incorporating diverse terrain, culture and wildlife along with the most spectacular and close up view of Annapurna range, Machhapuchhre, Hiunchuli and Dhaulagiri.
The region is home to different animals like clouded leopards, Himalayan Tahr, Himalayan Giant Honeybee, Pheasants etc. In spring, it showcases many beautiful flowers including the national flower of Nepal ­­­­– Rhododendron. Orchids, Machhapuchhre massif and the deepest gorge Kali Gandaki keeps you company during the trek. You will spot at times high cascading waterfalls. And, you will get to learn about people of different ethnicity, especially that of Gurung People when visiting Gurung Museum in Ghandruk.
Depending on which route you take, you may not pass through Ghandruk though. The trail is same from Chomrung onwards but you can choose to include or not include Ghorepani Poon Hill and Ghandruk. Poon hill is a vantage point for the view of Annapurna plus other peaks and for sunrise and sunset.
Other highlights of this trek are the hot springs! Very relaxing and healing for your aching muscles. Also, ABC passes through MBC (Machhapuchhre Base Camp). Visit two base camps in one trip!
Together with Annapurna Circuit, these trails see about seventy percent of the total trekkers visiting Nepal.
Trip Highlights
Spectacular and close view of Annapurna, Machhapuchhre and Dhaulagiri
Hot springs
Gurung Museum in Ghandruk
Exotic flora and fauna
Kali Gandaki is the deepest Gorge
Planning trip to Nepal and need help?
Earthquake Update for Annapurna Base Camp
The devastating earthquake of 25 April and 12 May was kinder to Annapurna region. It suffered very less damage. According to Miyamoto International that conducted damage assessment, less than 1 percent of the route and 3 percent of guesthouses were damaged. Most of the damage occurred on the Circuit trail rather than ABC trail. Therefore, the region was deemed safe for trekking for the peak season of autumn (September-November).
Damages were fixed as soon as possible and the whole region could be trekked by September. Now, it is back to normal, as safe as it ever was.
When is the best time to do Annapurna Base Camp trekking?
Annapurna Base Camp can actually be done any time in the year. However, monsoon is not a good time. Rain mostly comes down during the evening or night but the dark clouds are ever present. This means bad to no view of the beautiful peaks. It also means leeches, mosquitoes, possible landslides and slippery roads. But, this is the time when animals are most active. If you are a keen biologist, then maybe monsoon is for you.
First, here are the seasons. In Nepal, there are six seasons but it translates as:
Spring (March to May)
Summer/Monsoon (June to August)
Autumn (September to November)
Winter (December to February)
Autumn is the best time to do this trek. Autumn is a dry season that offers clear blue sky and moderate temperature. This is the best time do any trek in Nepal and is, therefore, very crowded.
You could go during December if you would like it to be quieter. ABC can be done in winter as well. Dry air and clear sky but, during winter, it will be very cold and will snow.
Starting from January, you need to be careful about avalanche when travelling from Deurali to Machhapuchhre Base Camp. This stretch is prone to avalanche. Trekkers should be careful no matter what time in year they are trekking when trekking from Deurali to MBC.
Spring is another best time to do Annapurna Base Camp trek. Watch out for the avalanche though. Listen to the locals for the news about the avalanche ahead. In spring, the trail will be covered in red and white rhododendrons and many other exotic flowers found in this region, a good time to go for botanists.
Annapurna Base Camp trek route/itinerary
There are 2/3 routes that you can take to ABC. From this, you can plan out many itineraries. All routes coincide at Chomrong and follows the same path to the base camp.
The trail can go straight to the Annapurna Base Camp or take a detour to Ghorepani Poon Hill or take a smaller detour to Ghandruk or both. You can make the climbing stop and returning stop at different villages. Of course, taking different routes causes plus or minus 3-4 days.
Here is a sample itinerary. This trail goes through Ghorepani Poon Hill. Normally, the trek starts like Phokhara to Nayapul and ends like Phedi to Pokhara.
Itinerary
| Day | Activity |
| --- | --- |
| Day 1 | Kathmandu to Pokhara (By flight or Bus) |
| Day 2 | Drive to Nayapul and trek to Ulleri |
| Day 3 | Trek to Ghorepani |
| Day 4 | Early trek to Poon Hill for Sunrise, Back to Ghorepani and Trek to Tadapani |
| Day 5 | Tadapani to Chomrong |
| Day 6 | Chomrong to Dobhan (Dovan) |
| Day 7 | Dovan to Deurali |
| Day 8 | Deurali to Machhapuchhre Base Camp (MBC) |
| Day 9 | MBC to Annapurna Base Camp |
| Day 10 | Trek to Bamboo |
| Day 11 | Trek to Jhinudanda (Hot spring in Jhinudanda) |
| Day 12 | Jhinu Danda to Pothana/Jhinu Danda to Ghandruk |
| Day 13 | Pothana to Phedi and drive to Pokhara/ Ghandruk to Nayapul and drive to Pokhara |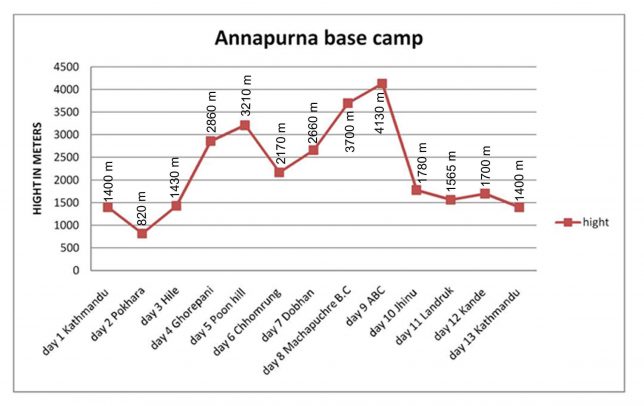 Personally, I think Ghanduk is a prettier village but Pothana is no less beautiful. Also, it is better to go through Ghorepani than to do a straight march up to ABC and back.
Trekking Permits and Costs for Annapurna Base Camp
What to pack is the main question for any kind of trip. It is important
To trek to Annapurna Base Camp, you need two permits.
One is Annapurna Conservation Area Project (ACAP) card. This costs:
For SAARC nationals: Nrs.200 (about US $2)
For Others: Nrs.2000 (about US $20)
Second is Trekkers' Information Management System (TIMS) card that costs NRS. 2000 (about US $20)
Trekking Gears or Trekking Equipment Required
What to pack for the trek is one of the important questions. Not having proper gears can prove troublesome, cause health issues or just simply ruin your mood. So, here is a general idea of what you should bring to Annapurna Base Camp trekking.
A light weight trekking boots. It is not impossible to do this trek in sneakers or trainers. Many people have. Just that you will be walking in snow for some part of the trek and boots offer more safety.
If you will be trekking this one time only, no need to spend on hiking boots. Just make sure that your shoes are well fitting, light and comfortable.
A pair of crocs
Four pair of liner socks. Two pair for warm climate and two pair for cold climate. Trekking/liner socks are better but it is okay if you only have the normal ones.
Few pairs of underwear. There are trekking underwear that you could buy in home. They are good for other outdoor activities as well. Normal ones can be bought in Nepal.
A high-quality best ultralight packable down jacket and a down pant. You can buy or rent a good down jacket and a down pant in Nepal for cheap for a $1 or less per day.
T-shirts and trousers keeping in mind both cold and warm temperature you will be traversing.
A set of thermals. Or, you could layer up.
A light sleeping bag. This can be bought or rented in Nepal too.
A trekking pole. Though relatively easy, there are many ups and downs in this trek and a trekking pole can assist you. Else, you could find a sturdy stick en route and use it to support yourself.
Two pairs of Gloves. One for warm weather and one for cold.
A woolen hat
Sunglasses
A torchlight or a head torchlight
A First aid kit including Diamox and Oral Rehydration Salts (ORS)
Toiletries– Toilet paper, hand sanitizer, water purifiers, sunscreen, moisturizer, toothpaste and toothbrush.
A waterproof map of Annapurna Base Camp
Snacks you like and entertainment such as books, cards, an iPad etc.
If you are unsure of what equipment to buy in Nepal and what to bring from home, this article will help you decide whether to buy trekking equipments at home or in Nepal.
Some Frequently Asked Questions
Here are some of the frequently asked questions answered to provide a clearer picture on Annapurna base Camp Trekking.
1) How fit do I need to be to do this trek?
Annapurna Base Camp is a Grade B or a moderately difficult trekking route. So any fit person can do this trek, even if you do not have any previous experience. You should be aware of what to expect and mentally prepare for it. Then, as long as you will to, you can.
2) How long do we walk every day when doing Annapurna Base Camp trekking?
On average, you walk about 4 to 6 hours per day. One or two days can be as less as 3hrs and one or two days can be as long as 7hrs.
3) What is the highest altitude reached in this trek?
The highest altitude reached is 4190m. This is the elevation of Annapurna Base Camp. ABC is the highest we will climb in this trek.
4) What about battery charging and hot shower facilities?
Yes, you can charge batteries en route. Charger should be brought. There are hot shower facilities as well. You may have to pay certain amount for both ($1-$2). Negotiate. Also, hot water facility could be free at lower elevation.
5) Are there ATMs on the way to Annapurna Base Camp?
No. There are no ATMs on this trek route. You will have to draw enough cash in Pokhara or Kathmandu. There are a number of ATMs in these cities. Everything is paid in Nepali rupees. So money should be exchanged before the start of the trek.
6) What about internet access?
Yes. Internet can be accessed in most places. Sometimes, there might be some technical problems. Internet in Nepal is not as fast as you are used to and at times you can just lose connection.
7) Is it necessary to hire Guides/trekking agency for Annapurna Base Camp trekking?
Not really. It depends on you. If you want, ABC trekking can be done independently. You could hire a guide and a porter by yourself instead of going through an agency or not hire a guide at all. Although, not having a guide can be a little problematic during off season.
It really depends on you. Is it your first time in Nepal? How confident are you of being able to find your way around? How pressed on time are you? If you go through an agency, it will be costlier but everything will be planned. You will only have to come, trek and return.
8) How much do guides and porters cost?
For Annapurna region, pay for guides range from $20 to $30 per day and porters take $15 to $25 per day.
9) How much should I tip guides and porters?
People have become used to receiving tips. However, there is really no set amount as tipping is a westerners created culture. They would be happy to receive what you see fit to give. If you are confused, trekkers have taken 15% of the total pay as the standard.
I.e. Say $20 per day times 10 days= $200 dollar. Therefore, 15% means $30 tip. This is quite enough. $30 = Nrs.3000 (roughly). So, you could tip anything from Nrs.2500 to Nrs.4000 depending on your satisfaction.
This is for guides and porters only. You do not need to tip taxi drivers or restaurant staffs. If you are adamant about tipping waiters, 10% of the bill is the standard pay. These are already included as service charge though.
If there are other questions you would like answered, please comment below. We would love to answer your queries.
Food, Accommodation and their Cost during Annapurna Base Camp trekking
Lodges cost around $2 per day. You can rent a private room with twin beds or a dorm room with 4-6 beds. They are small but cozy and tidy.
There are fancier hotels that cost much more but around $2 is the price for normal teahouses. Lodging in these fancy hotels is what is called luxury trekking. They are costlier. 'Comfort against weather' wise, luxury trekking is not really necessary for ABC.
You are supposed to eat where you stay. Teahouses make money on food rather than lodging. You would agree that $2 is really less. There are different food options you can choose from. You can have eggs prepared in different ways, chapatti, cereals with milk, sandwiches, potatoes prepared in different ways, packet noodles, chowmein, momo, macaroni, pudding, Dal Bhat Tarkari and more. Dal Bhat is the cheapest and most filling option. For drinks, you can have tea, coffee, flavored hot drinks etc. They sell alcohols as well.
On average, $25 per day will cover three meals, no matter what you choose to eat, and many cups of hot beverage. This budget will not accommodate alcohols. If you drink, it is better to drink on your return trip. Alcohol and caffeine will make you vulnerable to AMS. Know what AMS is below.
What is AMS?
Anyone travelling over 2400m should know about AMS. AMS can be fatal.
Also known as altitude sickness, Acute Mountain Sickness (AMS) is effect of high elevation on our body. Our body responds to the lower air pressure and lower concentration of oxygen at the heights causing headache, nausea, vomiting, lack of appetite, shortness of breath etc. Do not ignore the symptoms. It won't just get better. It will only get worse and turn into fatal conditions HAPE or HACE.
The best thing to do in case of AMS is to stop ascending. Turn back and descend or stay in the same elevation for the day. Most people acclimatize in a day, some people can take 2-3 days. Diamox helps in acclimatizing. If it does not get better, descend.
Annapurna Base Camp trek takes you over 4000m. So, it is very important to take upon prevention measures like staying hydrated, eating well, ascending gradually etc.
Know more about AMS prevention measures here.
Some Tips for Annapurna Base Camp trekking
Here are some suggestions that could help you during this trek.
If you ordered Nepali meal set or Dal Bhat Tarkari, you can take seconds and thirds for free, except for meat. Eat as much as you would like.
Carry enough cash with you during trek. There are no ATMs in ABC trail.
Set aside about $150 to pay for transportation and entry fees such as entry fee to monasteries and museums.
Add some contingency days as you might need one more day for acclimatizing or would like to explore one more place or there might be strike during which transportation close down. (Airports will remain open but transfer to airport will be a problem.)
Do not believe all the locals. Bad people can be anywhere. Let's say, if you ask how far is place A, they may say you have reached place A to get you to stay in their tea house. Not all people are like that. Most are friendly and helpful.
You could rent the expensive gears instead of buying them if they will not be of use in the future.
Public display of affection is forbidden and wearing revealing dresses will earn you unwanted attention and criticism.
It is rude to click people without their knowing. Ask them first, if it is okay to take their pictures.
Foods might take a little longer to cook. Order earlier.
Take proper precautions against AMS/altitude sickness.
Conclusion
Hope this helps in deciding on and planning out your trek to Annapurna Base Camp. Happy journey.
Planning trip to Nepal and need help?
Summary
Reviewer
Review Date
Reviewed Item
Author Rating