The first thing that comes to my mind whenever I think of traveling is, "How much will the trip cost?" Then I quickly realize that the cost will depend upon various factors such as the length of my trip, the season in which I wish to travel, the route I want to take etc. And the cost of trekking to Everest Base Camp is no different.
Trekking to the Everest Base Camp is an unforgettable journey. With the awesome natural beauty awaiting you, the wonderful people you are going to meet and the rich cultural experiences on offer, it will be a thrilling trek. But, in order to make the trek even more pleasurable, you need to take into account the costs that you have to bear along the way and be prepared for them.
Everest Base Camp can be trekked, with appropriate training, in all seasons. But there are a few seasons where trekkers flood into the area. And there are some seasons where the trekkers are relatively low in number.
Besides, there are multiple trekking routes to the Everest Camp. This means that you'll spend a different number of days trekking according to the travel packages you are comfortable with.
So, let us take a look at the various factors you need to consider to determine how much trekking to  Everest Base Camp is going to cost.
1. Travel Packages
Everest Base Camp trek can be completed in 13 days, 14 days or 16 days. All you need to consider is the various places that you are going to go to while trekking.
There are a few alternatives to the Everest Base Camp trek too. You can opt for the Gokyo Valley trek or the Gokyo and Renjo La pass trek. Both of these treks will last 15 days long.
There is also the option of Everest High Passes trek and Everest High Pass trek with Island peak if you are planning to spend close to 25 days in the Everest region. Jiri to Everest Base Camp trek is the longest of them all but it gives you very good options to acclimatize with high altitude.
The Everest Base Camp Heli trek is one if you are looking for light trekking in the Everest region. The Everest base Camp Helicopter tour is ideal for you if you want to save your time and avoid trekking in the Everest region altogether.
2. Guides and Porters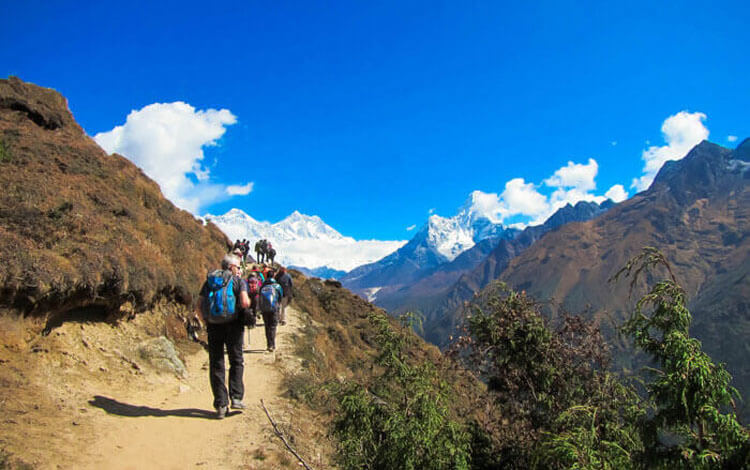 It is not compulsory to hire a guide if you want to trek to the Everest Base Camp. But I would recommend you to hire guides and porters. Their guidance, physical and mental support, and the safety they will provide you during your treks are incomparable.
Guides and porters who work for travel companies charge quite similar. This will be 30$ – 40$.  If you are looking for hiring a local guide, porter or porter cum guide, they will cost 20$ – 30$.
Almost all guides and porters can speak English. Therefore, you will not face any communication problems. Some guides are also comfortable speaking other European languages such as French, Spanish or Italian. But you need to check with the guide or travel company who will hire a guide for you about that.
3. Cost of Permits
You will also have to collect two types of permits if you want to trek to the Everest Base Camp. They are the Sagarmatha National Park Permit and a TIMS Card.
With the Sagarmatha National Park permit which will cost 33$, you will be permitted to enter the Khumbu region as well.
The price to obtain TIMS card, on the other hand, depends upon its various types.
Organized TIMS Card- 10 $
Individual TIMS Card – 20 $
SAARC Country TIMS Card – 3 $
4. Round Trip Flights from Kathmandu to Lukla
The beautiful place of Lukla airport from Kathmandu is  138 kilometers. You can take a morning flight to Lukla at 9 am or 10 am. The price of the flight is independent of the season that you want to go to Lukla. The cost of the flight will be 177 $.
5. Trekking Gear
Can a trek to the Everest Base Camp be complete without the right gear? Absolutely not. There are a number of things that you have to consider while you buy the right gear to trek to EBC.
Appropriate down jackets, trekking boots, winter hats and gloves, sunscreen, sleeping bags, trekking poles and spacious backpacks are the most important items to consider.
Buying all these items first-hand will cost you close to 2000$. If you have them already, it will greatly reduce the cost of your trek. Besides, you can also rent these items for the duration of your treks in certain shops in Nepal.
6. Food and Accommodation
It is important for you not to compromise on the quality of food or the places of accommodation during your treks. After all, hygienic, balanced diet will result in a better trekking experience. And good accommodation is necessary to rest after your daily treks.
You can choose to stay in teahouses or in standard hotels. In teahouses, you will generally be served the typical Nepalese food which comprises of rice, pulses, and legumes. In standard hotels, you can choose from the variety of cuisines they can offer.
You can get good accommodation for 25$-30$ per day. In peak seasons, you might have to share accommodation with other trekkers along the route. On the other hand, in off-seasons, you will have plenty of rooms. You can have extra mattresses and blankets as well to keep you as warm as possible.
7. Travel Insurance
Travel Insurance will come in handy in cases of unforeseen circumstances. You might have prepared really well for your treks but there are always chances of altitude sickness, muscle strain, baggage theft, or cancellation of flights.
In such cases, travel insurance will come in handy. There are various travel companies that provide you a travel insurance. Some of the companies are:
The travel insurance from these companies comes handy in case any of the possible problems bring you down. A 30 days travel insurance costs about 150$. And, will cover all your emergencies up to a height of 6000 meters.
8. Miscellaneous Costs
Charging
Charging can be quite difficult while trekking in the Everest region. It is not free and you sometimes have to wait for hours in a queue. The cost of charging will be 2$ – 5$ per hour in peak seasons. However, in off-seasons, you can charge for free.
Donations
You'll be trekking in the Everest region from 10- 25 days. During this time, you might form excellent bonds with people in this region and feel attached to this place. You might be tempted to contribute to the renovation of temples of this region, or for the development of schools/colleges. This can be an excellent way to contribute to the society which will give you a memory of a lifetime.
Tips for guides and Porters
The guides and porters will establish a good friendship with you during the trek. Therefore, you might feel that you need to tip them as a gratitude for their services. You are welcome to do that and there is no upper or lower bound to how much you can tip.
Conclusion
Thus, there are various items and their respective costs to consider when you are trekking to  Everest Base Camp. Spending wisely on the various items and forms that I have discussed above will result in a trek that will not only be memorable but also cheap!