With all the latest technology in the world such as Google Maps and language translators, it may be tempting not to take any guides along with you while traveling.
But:
That could be a big mistake. There are very good reasons why guides/ porters have not gone out of fashion. They add so much to your trekking experience:  without them, you are likely to miss out on the cultural as well as emotional things on offer along your way.
If you do not have prior trekking experience, you may feel difficult to trek Everest Base Camp without any guide. The mountains can be risky in case you go to trails that are not popular. Besides, if you suffer from simple medical problems, you will find it very difficult to manage your trip.
And, even if you have trekked before, there is no guarantee that you won't find any difficulties. Besides, if you are a traveler, you should look forward to making a contribution to the lives of the guides/ porters and the tourism industry.
What is a guide?
When you think of guides, you generally think of people whose primary and only job is to take you to various places. But there is a lot more guides do.
Guides will make excellent friends along the way. They will be representatives of the Nepalese tourism industry and act as your rescuer in case of altitude sickness. They will also act as a medium for you to communicate with the local people of Nepal.
The guides will also have excellent knowledge about the local areas, their culture, and traditions. Including diverse flora and fauna in your country. In other words, they will also help in nature exploration. In case you want to be adventurous and trek to less popular trails, they will also guide you to trails will be safe for you to trek.
Also, many guides are trained to speak in various languages besides English, you can find people who talk in the language that you are most comfortable in.
Who is a porter?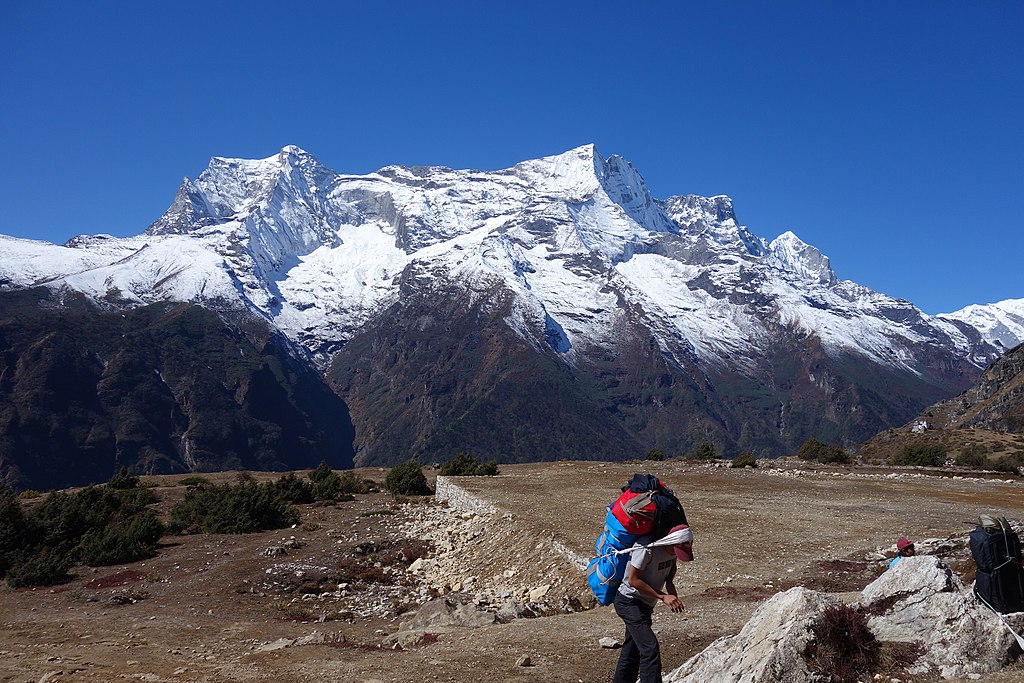 A porter is someone from the villages nearby the mountains who carry your items while you are on your trek. They are people who have lived all their lives in the mountains. So, they are well built and capable of carrying heavy loads to help you have a lighter trek.
When the porter carries your belongings, the load on your body is highly reduced. This makes your body less prone to fatigue. And avoiding fatigue is a good way to ensure that your body doesn't get affected by the mountain sickness.
A porter cum guide
A porter cum guide is a person who has the attributes of a porter as well as a guide. As many people in the Everest region earn their livelihoods from the tourism industry, it shouldn't come as a surprise that porters can communicate in the English language.
But not all of them are fluent when it comes to the English language. But as many of them belong to the place  (given that you are trekking to the Everest Base Camp), they can be excellent guides too!!
I have seen some travelers that go to Everest Base Camp alone. So, it is not compulsory to hire a guide. But if you are thinking, "Should I hire a guide then?" The answer is "YES!"
Reasons to hire a guide while trekking in the Everest region:
1. Safe Travel and Awesome Viewing
People who work as guides in the Everest region are experienced. Thus, they help you know which trails you have to walk in to have a safe travel. There is some paths where you might need a helping and balancing hand to get through. Your guides help you there.
Often, the weather in the mountains is unpredictable. At times, you may feel the trek worthless if you don't get the view that you were looking for. The guides will tell you when the weather will be good for viewing with their experience of weather conditions.
The guides will also have a good idea of hygienic water or food facilities en route. That way, you can keep diseases such as diarrhea and stomach aches away. This will save you from the discomfort of dehydration. And dehydration is one of the biggest causes of altitude sickness.
2. Experiencing the culture
If you simply trek to a place to experience the landscape, you may miss out on the people, their religion, and lifestyle. These things add to the richness of your travel experience.
This is where your guides will enhance your travel experience. Guides are familiar with the local language and will help you learn a few local words along the way. And there is nothing that helps you bond with other people better than learning their language.
Guides will also have a very good idea about the religion as well as the cultural experience of the region. Your guides to the Everest region will have excellent knowledge about Buddhist culture that is prevalent in the region.
3. Mental and Physical Support
As trekking in the Everest region is challenging, there might be occasions where you may feel like giving up the trek. But the guides will constantly boost your morale and show you some simple ways that you can complete the trek.
On the other hand, there might be instances when you push yourself too hard to complete the trek. The guides will help you maintain a good pace without stretching your physical limits too far. This is very important to avoid fatigue and altitude sickness.
Besides, there will also be instances when your backpack will be too heavy to carry for you. In such a case, your guides will share your load. There are plenty of instances where guides have helped the people whom they are guiding.
4. Boosting the Local Economy
The economy is one of the biggest reasons why you should hire a guide. Most guides/ porters are people from humble economic backgrounds. Their lives are very difficult and they earn only during the trekking season.
So, if you hire a guide/porter, it will boost their economy. They may have chances to improve their economic condition. This will also help in the development of the region and help future trekkers have a more pleasant trek to Everest Base Camp with improved facilities.
5. Better lodging and booking
Whenever you are traveling to Everest Base Camp, you might not always find teahouses and hotels that you are comfortable with. The guides will have an excellent idea about which hotels are the better ones in terms of the food they serve, the accommodation they offer and the safety issues.
They will also let you know about the local dishes you may want to try out. Sometimes, the guides are excellent friends with the owners of the tea houses/ hotels. If that is the case, you will get complimentary food and beverage and other services.
The guides will also give you suggestions if you should hire a porter depending on your experience and strength. If you happen to be in a group, the guides will also help you know the number of porters you have to hire to have a comfortable trek.
The porters that they recommend will be from the same travel company that the guides are from, which offers you safety as well.
Cost of Hiring a Guide
Guides and porters come at a very cheap price. There are excellent travel companies in Nepal which offer you facilities of guides and porters. The guides and porters are cheap too.
Hiring a guide to the Everest Base Camp will cost you 30US$ per day. Porters come even cheaper at 20 US$ per day. Porters cum guides come at a daily price of 25US$.
What the cost include
The daily wages of the porters, guides and porter cum guides
The insurance, as well as transportations of the guides, porters and porter cum guides
The meals (including tea and coffee), as well as accommodation
The government taxes as well as agency service charge
What the cost excludes
The cost of transportation including any flight (if necessary)
The cost doesn't cover any tips that you feel inclined to give to the porters, guides, and porters cum guides.
Conclusion
With such safety issues and wonderful services that guides provide you, it will come as a surprise if you don't hire a guide. They are your reliable bet to having a culturally wonderful experience. Their strength, support, and determination to help and protect you is something you can learn from.
So, hire a guide to make your travel experience something to behold!