If you look vaguely into the Nepali cuisine, you may feel that Nepal lacks variety other than the so called staple "Dal bhat". But when you look deeper into the Nepali kitchen you will discover a new dish in every home for every occasion. The multi-ethnic and multi-cultured Nepal has its own rich variety of dishes to offer. Every community in Nepal holds its own rich food culture that is yet to be explored. Newar community itself has more than 200 dishes in its rich cuisine. The mountain region of Nepal has the cuisine that are much influenced by the Tibet while the Terai has its own wide variety of the food due to rich agriculture produce.
Many of these unique Nepali dishes are left unnoticed as they are not commercially produced and served in the restaurants.  In our list, we have tried to include the dishes which have their own unique Nepali flavor and are comparatively not accessible to the one new to Nepal.
1. Yomari
Yomari is one of the most unique dish offered by the Newar community of Nepal. This steamed dish is usually prepared in a Newar family during the winters and said to kill cold. The dish has a peculiar shape made out of rice flour which contains Nepali sweets like chaku and khuwa. Some of the variety also contains finely spiced lentil inside the steamed rice dough cover.
Planning trip to Nepal and need help?
2. Samay Baji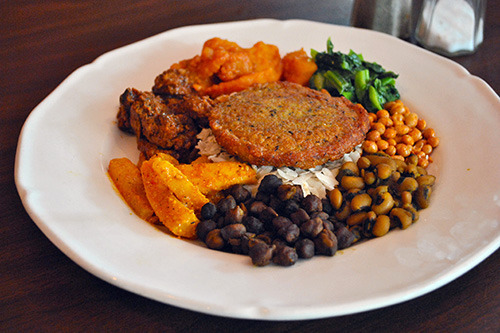 Samay baji is the famous Newari dish served as a starter in family get-together and Festivals. The dish consists of Chura ( beaten rice) and is served with many of side dishes like Choila (marinated meat), fried boiled egg, black soybeans, spicy potato pickle, finely cut ginger, spiced beans, green leafy vegetables, goat curry and Newari drink called ""Aila".
3. Sel Roti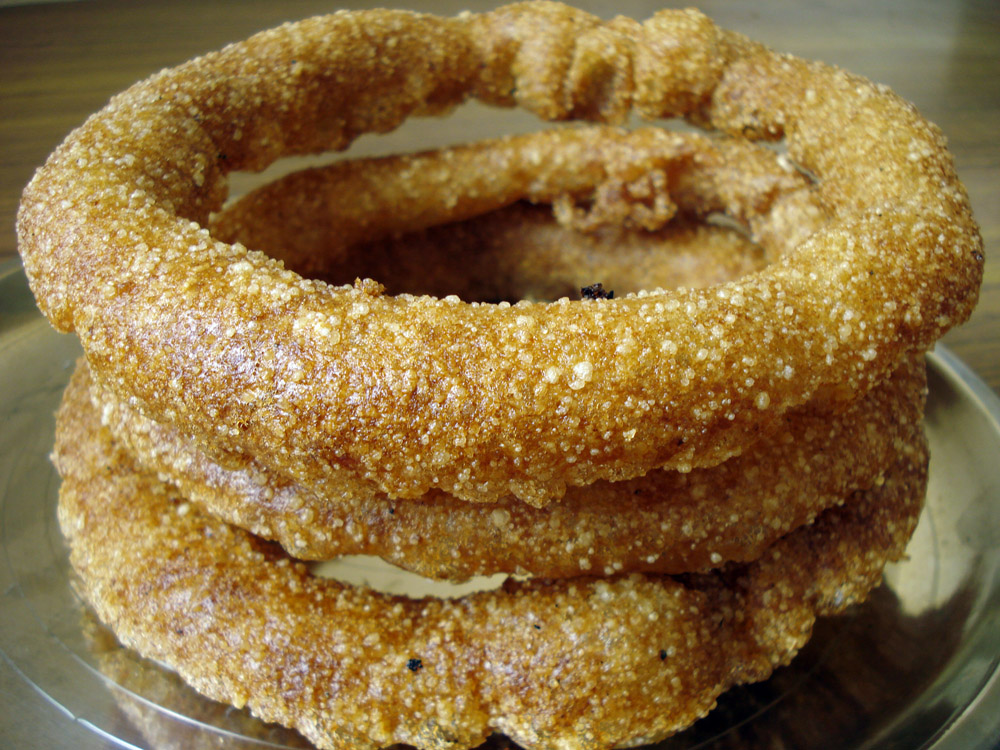 Sel Roti is a famous sweet ring shaped dish mostly prepared during Tihar. It is a rich dish prepared by deep frying sweetened rice flour. Sel Rotis are found in local eateries and now available in some of the famous departmental stores in the cities.
4. Chatamari

Chatamari, a must try delicacy of Nepal, is referred as Newari pizza by many foreigners. Chatamari is made from rice floor, the rice crepe is topped with minced meat, egg and seasoned with vegetables.
5. Dhido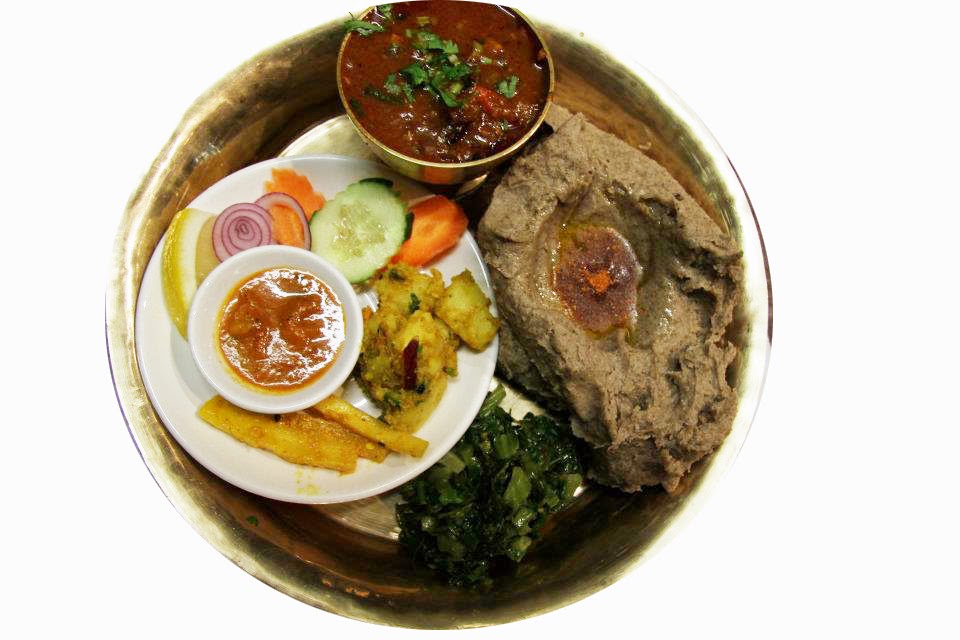 Dhido is a traditional Nepali food widely consumed in hilly and mountain region of Nepal, where rice and wheat is not abundant. Dhido is similar to Polenta and is made by continuously mixing hot water and flours of maize and buckwheat. It is often eaten along with local vegetable curry, pickle, or Gundruk (fermented leafy green vegetable) soup. Although a food of humble origin, Dhido is the second most popular dish in the country after Dal bhat and we can now find it being served in many Nepali restaurants.
6. Momo cha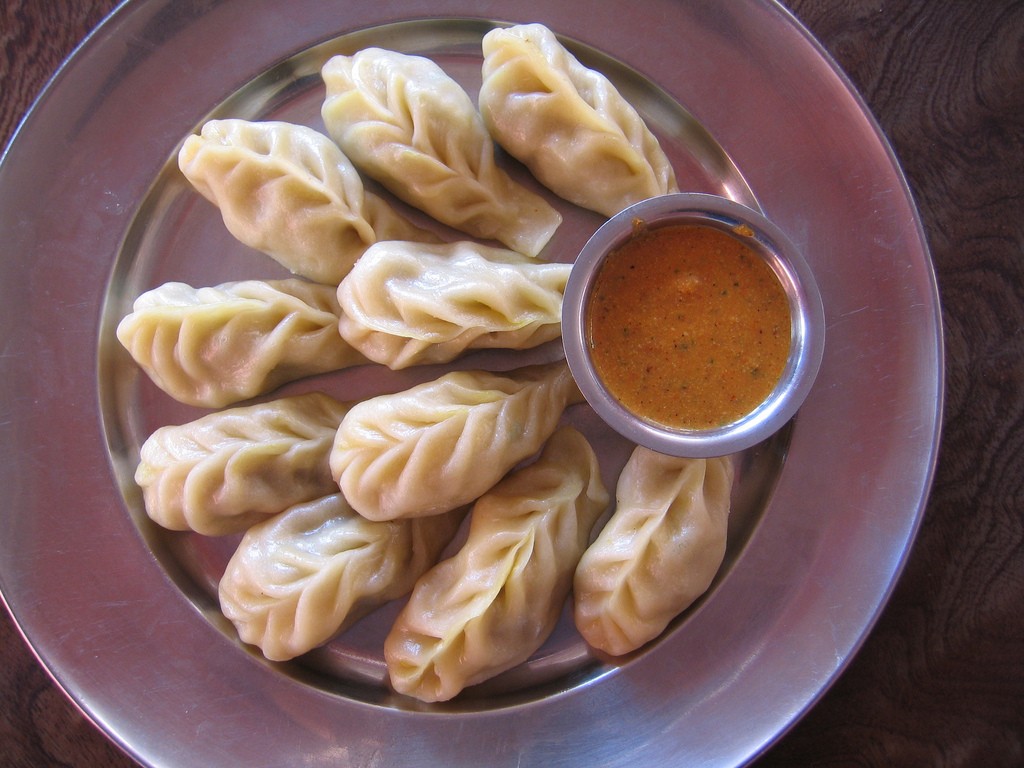 Momo or MoMo Cha (in Newar communities) dumpling is a famous food in Nepal. Momo are bite sized dumplings filled with seasoned stuffing. Although the dish is said to be originated from Tibet the dish has highly evolved with Newari seasoning to suit the Nepali palate. The dish is usually steamed but other varieties of the dish do exist. The dish comes other varieties called Kothey Momo (fried) and C-Momo (served with a spicy hot soup.)
7. Puwa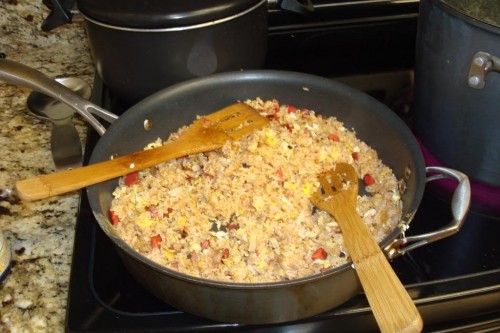 Puwa is regarded as pure food and is usually served during sacred rituals and Puja. Puwa is a sweet dish prepared with rice flour, butter and sugar. It can be eaten on its own or served with warm milk.
8. Nepali Bonus Treats
Just give try to these Nepali treats.
Pustakari: Pustakari is a sweet Nepali toffee made by stirring a big pan of mixed sugar,Khuwa (thickened milk), peanut powder and
Pau or Titaura: Pau literally means sour in Newari. This sour treats comes in variety and are made from local fruits like Lapsi (Hog plum), Amla (Phyllanthus emblica) and Tamarind. Some of the varieties are sweet and salty while some are extremely spicy.
Lakhamari: Lakhamari is a famous sweet from the Newer community. The sweet can be found in different shapes and sizes.
Sukuti: Sukuti is a Nepali word for dry meat or Jerky. Sukuti is either consumed directly or spiced as a snack or mixed with other ingredients and served as side dish.
JuJu Dhau: Juju Dhau literally means King Curd. This thick and creamy curd from Bhaktapur is a must try while you are in Nepal.
Yak Cheese: Yak-cheese is delicious cheese made from yak milk from the Himalayan region of Nepal.
Anarsa and Thekuwa: Thekuwa and Anarsa are the two famous sweets from Terai region of Nepal. These tasty sweets are prepared on the special occasions of Chhath ( Festival celebrated in Terai region of Nepal) .
 Conclusion
You may not find these foods in restaurants and hotels. But if you want to try them, make a special request to the restaurant or hotel you often visit or get a hold of a local friend.
Any food in Nepal that you think should be included in this list? Please let us.
Are you looking for some savory Vegetarian food in Nepal ? here is our guide for vegetarians in Nepal
Planning trip to Nepal and need help?
Summary
Reviewer
Review Date
Reviewed Item
Foods other than Dal Bhat
Author Rating