In today's society, there are various options when it comes to popular hiking footwear. The main differences between the brands revolve around the weight of the shoes and how supportive they will be under different pack loads. This article will provide a list of the more common options and discuss the pros and cons of the hiking footwear.
1. The Trail Running Shoe
The trail running shoes have been designed for running on different types of terrain, including uneven surfaces and dirt trails. While this type of footwear was not originally designed for the purpose of hiking, it has become a popular alternative for hikers aiming to maximize their distance traveled in a single duration.
The trail running shoe is available exclusively in low cut designs with soft rubber soles. This makes this type of shoe ideal for running due to the flexibility. Furthermore, the thick tread patterns on the sole allow for easy managing of rough terrain. A lightweight mesh or nylon upper material makes the footwear breathable, while still remaining waterproof. The combination of breathable material with waterproof features used to be challenging to find; but now, with the popularity of the trail runner, it is possible to purchase a versatile shoe.
Unless you are intentionally searching for a smaller running shoe, the majority of these items will present with a weight of approximately 1.5-2 pounds – similar to the average weight of a hiking shoe. The intended function of trail running shoes tends to offer less protection in the toe area with greater sensitivity under the foot; however, far more agility than hiking boots.
One highly beneficial feature of the trail running shoe is that there is no break-in period after purchase. This means that you will be able to wear the item immediately after purchase with comfort. Unfortunately, the light weight construction with low cut design does not offer much support under large pack loads and the shoe will not last in that situation.
The best uses for this type of footwear include trail running, lightweight backpacking and hiking, and short hikes on easy terrain.
2. Hiking Shoes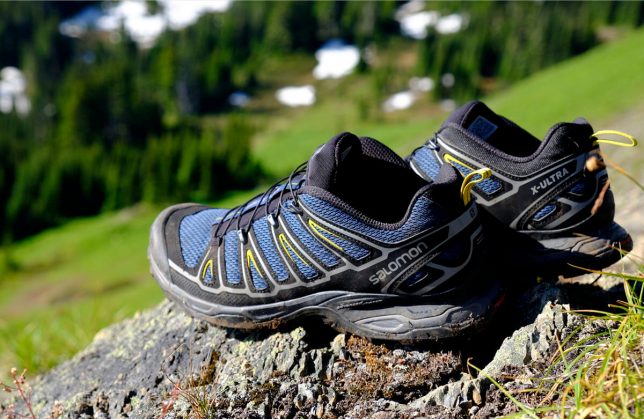 Hiking shoes are ideal when searching for that 'happy medium' between the durability of hiking boots and lightweight simplicity of trail running shoes. This shoe presents with a semi-aggressive tread pattern, similar to the aforementioned trail running shoe; however, it shows greater durability with the construction of Vibram rubber soles.
Due to the low-cut design, the ankle support of the hiking shoes is minimal but there is foot support from the sole construction. This combination means there is less flexibility in the outer material. If you are looking for increased support and stability, it may be possible to find this is certain hiking shoe models that incorporate inner shanks across the length of the footwear.
Unlike the unprotected toes of the trail running shoes, the hiking shoes offer toe protection with rubber toe-caps making it possible to travel across rough terrain when hiking. The majority of models now offer waterproof and non-waterproof alternatives. By choosing a waterproof option, it is possible to increase the versatility of the footwear to suit different climates. Unfortunately, a waterproof option will increase the weight of the shoe and reduce breathability.
Hiking shoe is a comfortable option as it requires a minimal break-in period, if at all, and has a longer lifespan that trail running shoes. If you're interested in an even more comfortable option then look for orthotic alternatives such as these from www.orthoticshop.com.
If you find yourself hiking across medium or rough terrain, it may be better to purchase hiking shoes as a long-term investment. Unlike trail running shoes, it is possible to support light pack loads comfortable. The heavier pack loads can be supported, but they should not exceed 20-30 pounds. Of course, this is entirely dependent on personal ankle and back support needs.
When considering hiking shoes, one should think of them as the sturdier and more durable upgrade from the trail running footwear. Not only do these type types of shoes different in weight, but the hiking shoe can be used for both easy and strenuous daily activities.
The best uses for this type of footwear include day hikes, moderate backpacking and footwear, and long distance lightweight backpacking and hiking.
3. Hiking Boots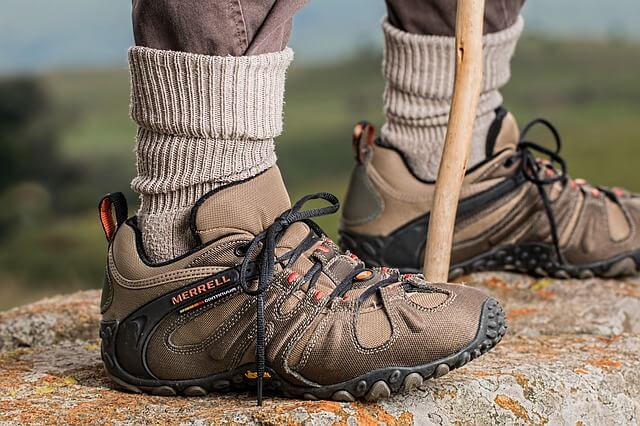 Hiking boots are typically classified according to their height above the ankle, the strength of the rubber soles, and the durability of the construction using leather or similar materials. One of the common misconceptions regarding hiking boots is that all of these types of boots are heavy. Contrary to this belief, it can be seen that many of the modern boots weigh in at approximately 2-3 pounds which is a few ounces more than many hiking shoes.
While the hiking boot may be slightly heavier than the hiking shoe, the boots do offer far more stability and support around the wearer's ankles. Regarding uses, this type of footwear is ideal for all forms of hiking ranging from lightweight hikers to traditional, heavy-duty hiking. The hiking boot is the most effective option when planning to carry a pack load exceeding the standard 20-30 pounds.
The best uses of hiking boots is day hiking (with additional ankle support), heavy-duty backpacking with pack loads exceeding 20-30 pounds, off-trail or rough terrain hiking, and summer hiking where snow is soon to be experienced.
Conclusion
I hope the article has helped you understand different options related to hiking footwear and their pros and cons.